November 1, 2021
Dear Friends,
Thank you, from the bottom of our hearts, for giving the gift of hope to so many of our neighbors since we established A New Direction in October of 2011. Initially, we responded to an unmet need by providing counseling, legal advocacy, education and support to families affected by domestic violence in the Beverly community. Very quickly, we expanded our reach to families in Morgan Park, Mt. Greenwood, Evergreen Park and Oak Lawn.
During the last decade, you have made it possible for AND to provide life-affirming assistance to hundreds of our brave neighbors whose struggle is often invisible to us. Your generous spirit built AND into a small but mighty not-for-profit mission-driven organization with an equally strong balance sheet. When we have seen so many not-for-profits succumb during the global pandemic, we realize how fortunate AND is because we benefit from the wisdom of having a prudent reserve.We are proud and grateful to share how your donations foster a sense of confidence and peace-of-mind for those we serve. They know they always can count on AND staff members and services.
As we anticipated our 10th anniversary this year, our Board began to explore how to fortify and expand AND's resources that assist adults and children trying to liberate themselves from an unhealthy and often dangerous relationship. Fortunately for us, we embarked on this process during the last several months from a position of strength as we considered several options.
Today, we are excited to share with you the outcome of our strategic approach to planning how AND can best serve its clients and help more Southwest siders. You are among the first to know that A New Direction is joining forces with WINGS Program, Inc., Illinois' largest domestic violence agency.While we are successfully fulfilling our mission and managing our resources, we decided this is the right time for AND to bring its talents and assets to an organization that provides an opportunity for all of us to do m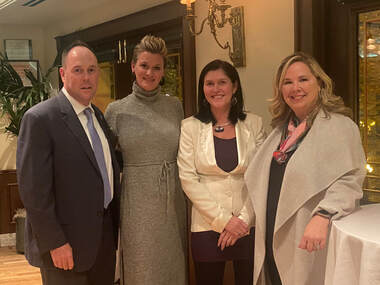 ore. And it turns out that our timing is perfect because WINGS' Board has been exploring how to offer new models of community-based services because not every DV victim requires a stay in a safe house or needs long-term housing.
On Thursday evening, November 4, during WINGS' annual meeting, WINGS and A New Direction will announce AND will become part of WINGS' 36-year-old not-for-profit organization. Our collaboration begins with affirming to you and to our clients that services provided by AND will continue at our current location in Beverly and we will be available for assistance at the same phone number, 773-253-7226. We expect to complete this transition by the end of this calendar year. Jessica will join WINGS Corporate Board of business, civic and philanthropic leaders. And Jessica and several AND Board members will join the soon to be formed AND Leadership Council. Our Board members also plan to continue organizing fun fundraising events to support our mission and services offered in our neighborhood.
​
This is the first of a series of correspondence to manage our transition process during the next several weeks. Your personal support is essential to AND's future success. Will you please affirm your support of our decision to spread AND's wings by giving us permission to transfer your contact information to WINGS' database? Please be confident your information will not be shared with any other organization. Initially, our focus will be to communicate our progress during November and December. If you prefer that we do not share your contact information with WINGS, please send an email to Jessica at jessica@anewdirectionbmp.org before 5:00pm on Tuesday, November 30, and state that you do not want us to include your information in our database transfer to WINGS.
Since day one, helping individuals and families overcome domestic violence as they navigate their journey to safety has been our top priority. Together with WINGS, we are confident our AND mission and legacy will grow more quickly and the support we offer will empower more people in need.On behalf of our Board and staff members, volunteers and clients, we thank you for entrusting us to help those who are vulnerable. And we especially thank you for your confidence and faith in how we are making it possible for AND to extend its reach while being true to our founding mission—helping Southwest siders seeking to liberate themselves from the life-threatening constraints of domestic violence.
With gratitude as we look to our future together,
Jessica McCarihan
Executive Director
Nancy McMorran
Chair, Board of Directors
Note: Please email jessica@anewdirectionbmp.org if you do not want us to include your information in our database transfer to WINGS.